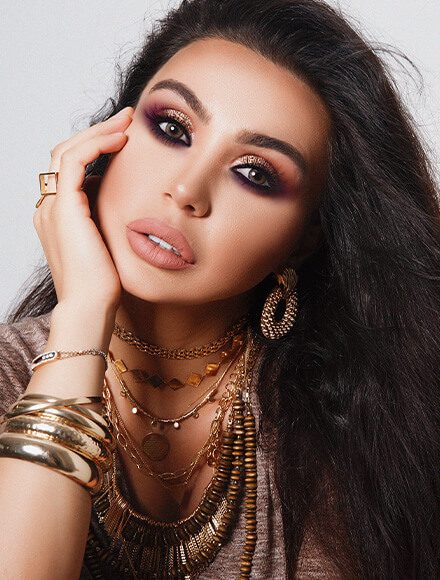 ILAHA HAJIYEVA

BEAUTY AND MAKE-UP CENTER
In December 2015, "Ilaha Hajiyeva beauty and make-up center" opened its doors to clients. The center, which occupies a special position among other beauty salons in Azerbaijan as one of the leaders in the industry, is a home to well-known makeup artists, who are Ilaha Hajiyeva's students, as well as highly experienced hairdressers who participated in international seminars.
The professional masters working at the "Ilaha Hajiyeva beauty and make-up center" draw every lady closer to the beauty of their dreams and turn them into beauty icons.
Being the primary option of many brides, the beauty center utilizes cosmetic products of the brand "Ilaha Hajiyeva Cosmetics", as well as cosmetics produced by well-known brands.
Every lady who wants to look attractive can achieve her dream beauty with the help of the specialists at "Ilaha Hajiyeva beauty and make-up center".
ILAHA HAJIYEVA
COSMETICS PRODUCTS
Created in 2017, Ilaha Hajiyeva's own brand – "Ilaha Hajiyeva Cosmetics" offers a range of cosmetics for women who want to be beautiful at all times and who value beauty. The "Ilaha Hajiyeva Cosmetics" brand that refreshed the concept of make-up in Azerbaijan, is the best assistant to every beauty lover. The goal of the brand is to provide women with high quality cosmetic products and take care of their beauty. At present, "Ilaha Hajiyeva Cosmetics" offers four beauty products that render women even more beautiful:
Eyelashes;
Cosmetic brushes;
Face contours
Eye glitters
Foundation&Concealers
CC Cream
Lipsticks
Photoshoot Primer
Shimmer Powders
Concealers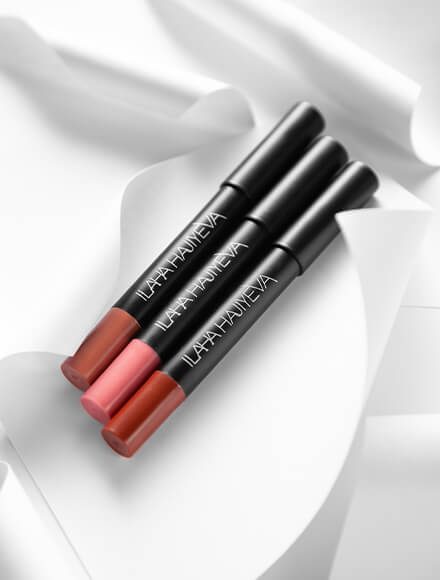 Naturally, women use different types of cosmetics to highlight their beauty, to look better, or simply to be happier when looking in the mirror. Women who want to look attractive and well-groomed sometimes find it difficult to find the products with the best quality that would suit them, considering countless cosmetic products available in the market. "Ilaha Hajiyeva Cosmetics" offers a high quality makeup tool that has been tested for years, and thanks to these cosmetic products each woman can have a charming and attractive beauty that she has dreamt of.
When choosing from the great variety of cosmetics, it is not enough to simply focus on the brand and product ingredients. The choice of cosmetics for each type of skin, especially the product to be used on the face, lips and eyes, should be appropriate for the age of the customer. Taking all this into consideration, "Ilaha Hajiyeva Cosmetics" is always ready to provide women with cosmetics suitable for all age categories and skin types.